Weinbrenner Shoe Company History
125+ Years of Quality Job-Fitted Footwear
High quality, job-fitted footwear that's designed for comfort and performance doesn't just appear overnight. The Weinbrenner Shoe company has put more than 125 years of experience, development, and dedication into making work boots and other footwear made for the job that needs to be done – and we've been focused on that task since the beginning. An employee-owned company, we understand the need for durable, comfortable boots that put performance first.
1892
Albert Weinbrenner (age 27), started a business with partner Joseph Pfeifer repairing and selling boots and shoes out of a storefront at 140 West Water Street in Milwaukee, Wisconsin. Their new cobblery was called "Weinbrenner and Pfeifer," and they specialized in boots and shoes for the "jobbing" trades – in other words, they made and fixed work boots.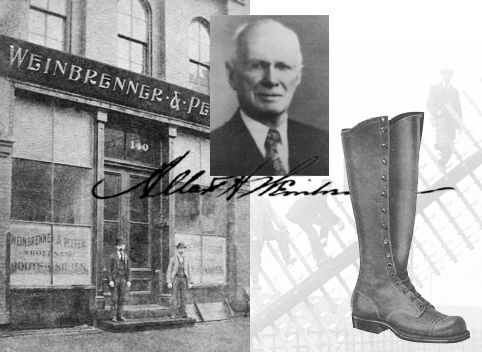 1917
The Thorogood® job-fitted brand was first introduced in 1917, including work boot styles designed to meet the needs of specific occupations. A few of the original jobs these job-fitted boots were made for included miners and quarry workers, farmers, railroad workers, foundry workers, and oil well drillers.
1935 – 1937
To help reduce overcrowding in the Milwaukee facilities and bring back some of the industry lost in the Great Depression, the Weinbrenner Shoe Company worked with a local foundation to build and open a factory in Marshfield, WI, to build work shoes. The following year, another factory was built in Merrill, WI. Production was quickly absorbed by the few facilities and phased out in Milwaukee.
1943
Production shifted to military footwear in 1942 as the company celebrated 50 years in business. The following year, company workers organized under the International Boot & Shoe Workers Union, and locals #688 and #717 of the United Food & Commercial Workers International Union (UFCW), AFL-CIO, CLC currently represent Weinbrenner's workers.
1992
1992 marked 100 years in business for Weinbrenner, and with the many ups and downs over the century, the underlying focus remained the same: A focus on job-fitted, high-quality footwear that incorporates expertise, innovation, and craftsmanship. The company also continued its commitment to maintaining domestic production and manufacturing work boots in the USA, beginning a series of building improvements in its Wisconsin plants.
2000
A new era for the company began in 2000 as Weinbrenner became an employee-owned company through an Employee Stock Ownership Plan (ESOP). With a renewed focus on job-fitted footwear and a commitment to form, function, and fit, Thorogood became the leading footwear brand in its markets.
2017
Having celebrated 125 years of history in 2017, the Weinbrenner Shoe Company has continued to commit itself to manufacturing job-fitted boots that combine quality and value. The company also continues to invest in domestic production, improving facilities, equipment, and manufacturing in the USA. Weinbrenner and the Thorogood brand have stood the test of time – and will continue into the future. The working relationship between corporate and manufacturing is strong and focused squarely focused on making great, job-fitted work boots.