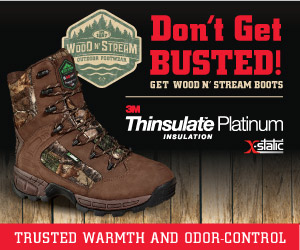 Outfitting Adventures Since 1957

Quality: Your next hunt many depend on it.

Nothing puts a damper on a great hunt or outdoor adventure like wet, sore or stinky feet. Your performance and enjoyment suffer, and it's that much harder to get what you're after. Wood N' Stream boots are built to the highest quality standards with many styles made in the U.S.A. Innovative design, features, and materials ensure that your feet will be the least of your worries next time you head out in the field.

Take the new 3M™ Thinsulate™ Platinum/X-static® advanced odor-eliminating technology in several of our popular and new lines of boots. Warm, breathable, water-resistant, and the new Platinum odor control technology means you won't be detected by any of your quarry's senses.

And along with our already-popular styles, be sure to check out the features and advantages of new offerings in our Maniac, Gunner, and Mountain Ridge series.

Wood N' Stream, where tradition meets innovation.