Thorogood Fire » Hellfire Rubber » Neoprene Rubber Structural and Haz-Mat Fire Boot with Lug Sole
Contact Us
|

Neoprene Rubber Structural and Haz-Mat Fire Boot with Lug Sole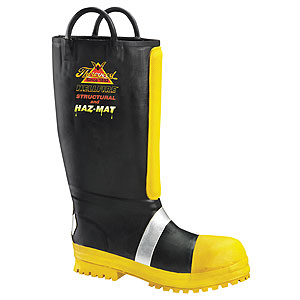 807-6004
View Detailed Sole Information
8.5x11 Printable Version
|
5x6 Printable Version
7x5 Printable Version
Note: If you need the printout to fit a certain size of paper, make sure to adjust your printer settings in order to fit your desired size.


Upper: Chemical/FLAME/HEAT RESISTING Neoprene
Construction: Neoprene Latex Dipped and Vulcanized Rubber / Shoe Fit Engineered
Lining: 3mm Closed Cell Neoprene Foam Laminated to Nylon with 3.5mm Polyester Needled Felt Mid-Layer
Insole: Removable Superknit Covered Polyurethane Footbed
Midsole: Flexible L-Protection® or Stainless Steel Puncture Resisting Material
Shank: Steel Triple Ladder Shank
Outsole: Chemical/Oil/FLAME/HEAT RESISTING Polyurethane "Traction Lug"
Special Features: Meets Both NFPA 1971 (Structural Fire Fighting) and NFPA 1992-2005 (Splash-Protective for Hazardous Materials). UL Certified. Blood Borne Pathogen Compliant. ASTM F2413-11 M I/75/C/75 Oversized Steel Toe. EH Rated. Double Reinforced Pull Loops. Cushioned Shin Guard. Light-Reflecting Instep and Heel Patches.

M 5 - 14 , 15, 16
W 5 - 14 , 15, 16
XW 5 - 14 , 15